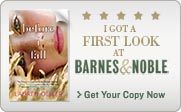 "I suppose that's the secret, if you're ever wishing for things to go back to the way they were. You just have to look up." Sam's thoughts - pg. 284
Samantha is a senior in high school, someone who seems to have it all. But, does she? At the beginning of the book we learn that Sam dies in a car accident, BUT, she is given the opportunity to relive the day again and again to learn about herself and those around her. Why are she and her friends "mean girls?" Is Rob right for her? What is her relationship like with the members of her family? Sam tries to make some changes as she relives the day. Are they enough to save her?
I enjoyed reading this book as part of B&N's First Look program. Lauren Oliver writes with a style that invites you into her story. (i.e. "The sky is a perfect, pale blue. The sun has just risen, weak and watery-looking, like it has just spilled itself over the horizon and is too lazy to clean itself up." pg. 10) I didn't like many of the characters at first, including Sam, but as Feb. 12th was repeated and I learned more, I found myself drawn into their lives. What would you do if you could relive a day? Would you make it better? How would your changes affect others? Read this book and you might just find yourself looking for the answers to these questions. You might just join Sam in saying: "I love my life. I want my life." pg. 153 This is a really good book for young adults and their parents to read and discuss together.